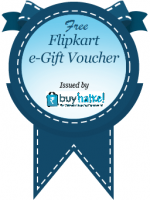 Many of you are getting attracted towards online shopping these days. Since its the easiest way to get the awesome deal just by clicking few buttons. What if I tell you that you can get free voucher of Flipkart worth Rs. 100 to Rs. 1000 just by referring your friends to install an extension ? Yes its true and nice way to earn free gift card vouchers for online shopping. After getting voucher you can buy anything you like on Flipkart with those credits.

All you need to do is install an extension to Chrome or Firefox browser then Refer your friends to do the same. As soon as your friends install your referral increases and on successful 5 friends referral you will get Rs. 100 free Flipkart voucher. Similarly if you refer 50 friends you will get Rs. 1000 flipkart voucher absolutely free. Hurry up before any other friends grab your referrals before you.
Steps To Get Free Rs. 1000 Flipkart Voucher:
1. Go to this link and install extension / addon - Click here
Important Note: Open above link only from Chrome / Firefox browser.
2. Now on the opened page click on Get This Tool Now button.
3. When you click on that button a popup will appear. You need to click on "Add" on that popup window.


4. After clicking that, it will install Buyhutke Extension to your Chrome / Firefox browser.
5. After installation, click on Refer & Earn button placed on left corner of the site.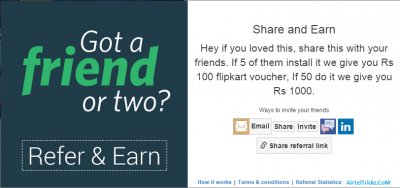 6. You will find this offer.
Hey if you loved this, share this with your friends. If 5 of them install it we give you Rs 100 flipkart voucher, If 50 do it we give you Rs 1000.
7.You need to enter your name and email address to register.
8. After that click on Share referral link and copy your referral link and ask your friends to download this extension.
9. When atleast 5 of your friends install this you will get Rs. 100 Flipkart Voucher for free in your mail id from which you registered.
10. You can check your referrals by clicking on Referral Statistics link given on offer popup.

Terms & conditions:
- The installations made through the referral link should be valid users.
- Any instance of misdoing would be strongly dealt with.
- The flipkat voucher code would be sent to you 3 days after your complete the installations for refer and win after we analyse the validity of the referrals.
- In case of dispute the decision of BuyHatke would be final.

Note: Some of you might get recharge related offer. Do not worry about that, install extension then use it for few days and you will get this offer shown. Verification of successful referral may take little time but you will confirm get free voucher in your mail...
Keep visting GH for new tricks ..
ENJOY